not us, my friends!
it started with needing to make the 2nd pair of booties for a friend who had just had twin girls-
then another had a gorgeous baby boy-
and paul's sister was having a baby girl, so for the baby shower i made a couple of pocket nappies-
and some bamboo & baby pink hemp inserts-
but then she came *before* the baby shower, 7 weeks early, so i had to whip up something fast!
thus, the tiny pink hat-
see, just for scale, here it is on top of the size small nappies!!
and another friend of mine had once mentioned that with prem babies it can be nice to have a pretty sign of their name for their incubator/bassinet, so lexi did a little watercolour painting and punched & glued some butterflies onto a picture for her-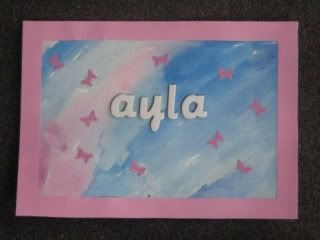 and then yet another friend, a passionate knitter, had a baby boy, so i knit him a fun little woven ball-
now i've just got a tiny bit of down time before i need to make something for four more babies on their way!